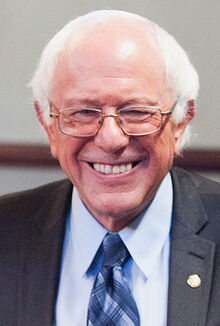 "He wanted to return power to the people."
―William Miles, 2016
Bernard "Bernie" Sanders (born September 8, 1941) is an American politician who has been the junior United States Senator from Vermont since 2007.
Sanders is aware of both the Assassin Brotherhood and Templar Order's existences. In 2016, he was secretly backed by the Assassins in his bid for the Presidency. The Assassins believed Abstergo Industries puppet and Democratic candidate Hillary Rodham Clinton was the Templars' choice for the Presidency. Little did the Brotherhood know, Republican businessman Donald J. Trump was actually chosen by the Order to win the White House. Abstergo was made of aware of the Assassins' plan, thus Clinton and Trump conspired together to undermine Sanders' candidacy. After having the lives of his family threatened, Sanders ended his campaign and endorsed Clinton.
Following Sanders' suspension, the Assassins backed Libertarian nominee Gary Johnson in a last ditch effort to stop Abstergo. This unfortunately failed due to Templar meddling, and Trump won the Presidency.
Ad blocker interference detected!
Wikia is a free-to-use site that makes money from advertising. We have a modified experience for viewers using ad blockers

Wikia is not accessible if you've made further modifications. Remove the custom ad blocker rule(s) and the page will load as expected.